Drive Into the Future with the 2022 Chevy Bolt EUV
It's time to let the miles and the memories add up – minus the fuel costs. The refreshed 2022 Chevy Bolt EUV is here and it's ready to transform the way you drive.
You can find this futuristic compact electric SUV here at LaFontaine Chevrolet Dexter in our lineup of new Chevy cars for sale. We can't wait to show you around this exciting adventure car and to help you upgrade to a fully modern driving experience.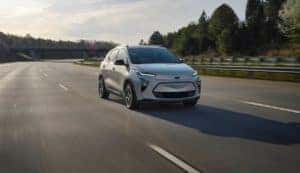 2022 Chevy Bolt EUV Model Details
The new 2022 Chevy Bolt EUV offers a fresh look, with a chiseled front fascia that features sharp LED headlamps and a textured metal plate that subtly mimics the look of a traditional grille.
The cabin also benefits from an updated look, with a clean layout, quality materials, and an emphasis on technology. The interior of the 2022 Chevy Bolt EUV creates space for up to five passengers to sit in comfort while creating plenty of space for cargo.
In addition to functioning as a highly practical SUV, with ample cargo room and ground clearance, the 2022 Chevy Bolt EUV offers a unique driving experience thanks to the electric motor. The battery pack helps keep the center of gravity low, resulting in superior handling. And since all of your power is available right away, you'll feel an instant torque response when you press on the acceleration pedal.
The 65 kWh battery generates 200 horsepower, resulting in plenty of fun each time you take the wheel. And on a full charge, the 2022 Chevy Bolt EUV offers a 250-mile range and you can get 90 miles of range in 30 minutes from a DC quick-charging station.
Safety and Special Features
The cabin of the 2022 Chevy Bolt EUV includes a 10.2-inch infotainment touchscreen display as a standard feature and you can upgrade the system with available Apple CarPlay® and Android Auto™, Amazon Alexa, and an integrated Wi-Fi hotspot.
In addition to standard driver-assist features like automatic emergency braking and lane-keeping assist, you can include available Super Cruise™ semi-autonomous driving.
Buying a 2022 Chevy Bolt EUV
Our friendly Dexter Chevy dealers will be happy to answer any questions you have about our inventory of electric vehicles, so you can find the perfect future car for you. Plus, you can count on our Chevy finance team to help you get your loan approved at a great rate. Visit us today!