Everything You Should Know About the EV Tax Credit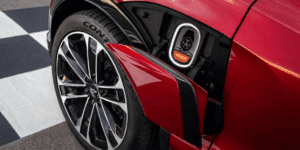 In recent years, the market for electric vehicles has grown by leaps and bounds. Once you see the practicality and features a Chevy EV offers, you'll understand why that's the case. Making the switch to an all-electric vehicle can obviously lower your fuel bill, but did you know it might reduce your federal tax liability, too? If you and your EV satisfy certain criteria, you may save thousands of dollars on your taxes.
Amount
Drivers who want to lower their impact on the environment often ask us about the EV tax credit when they contact our Dexter, MI Chevrolet dealership. The EV tax credit is a non-refundable credit the Internal Revenue Service extends to eligible motorists in the year they purchase an EV. If you qualify for the credit, it can lower your tax bill by the amount you're able to claim on your federal tax return.
The amount you can claim depends in part on whether you purchase a new or pre-owned EV. Eligible new car buyers can claim a maximum of $7,500 while motorists who buy a pre-owned EV can claim the lessor $4,000 or up to 30 percent of their vehicle's purchase price.
MSRP
All the new Chevy models you'll see in our showroom have sticker prices. The cost of the EVs you'll notice influences your ability to qualify for the EV tax credit. New vans, SUVs, and pickups must have an MSRP of $80,000 or less for you to be eligible for the credit while other body styles can cost no more than $55,000. Previously owned EVs must cost $25,000 or less for you to benefit from the EV tax credit.
Leasing an EV
While qualifying car buyers can benefit from the EV tax credit, lessees cannot. When you lease a Chevy EV, your lessor gets to claim the tax credit because the lessor retains ownership of your car throughout your lease.
Location, Location, Location
When you contact or visit LaFontaine Chevrolet Dexter, we'll explain that where the parts of an EV are sourced impacts the car's eligibility for the tax credit. Most battery components must be manufactured in the United States, Mexico, or Canada, for example. In addition, EVs must be assembled in North America.
Visit Our Dexter, MI Chevy Finance Center
Are you curious about your ability to qualify for the EV tax credit when you purchase an EV at our Chevrolet dealership? If so, head over to our Chevy finance center to talk to our financing experts today.