Understanding The 3 Levels of Charging Chevrolet EVs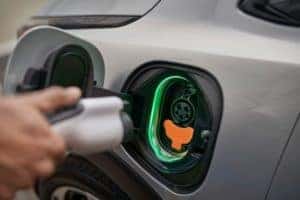 As fully electric vehicles continue to make their way to our dealership, it's important to familiarize yourself with the process of charging Chevrolet EVs and the different options you have available to you.
Currently, there are three levels of charging that you can choose from. Allow the team at LaFontaine Chevrolet Dexter to explain each of the three levels.
Level 1 Charging
The simplest way you can charge your EV is with Level 1 charging which uses a standard 120V wall outlet. Most of our electric cars will include a compatible cable that will allow you to easily plug your vehicle into the wall and "trickle charge" your battery over the course of around 12 hours.
These charging cables are often limited to a certain ampere amount so the circuit box at your house doesn't get overwhelmed.
Level 2 Charging
Level 2 charging is the most common charging method that you'll encounter as it's implemented in public charging stations and can be optionally installed in your own garage by a technician.
Level 2 charging works through a 240V outlet and allows you to regain about 10 to 25 miles of range per hour of charging. If you're interested in purchasing the brand-new Chevy Silverado EV, installing a Level 2 charger will save you time and money.
Level 3 Charging (a.k.a. DC Fast Charging)
The newest and fastest charging method for electric Chevy cars is DC Fast Charging which uses a 480V AC circuit. DC Fast Charging converts power to direct current, allowing you to bypass the internal charger entirely so that the process becomes much faster.
If you go with the Chevy Bolt EV, you can expect to receive 100 miles of range in just 30 minutes of charging.
Visit LaFontaine Chevrolet Dexter to Learn More
If you're considering a brand-new Chevrolet EV or simply want to familiarize yourself with the way electric cars work, stop by our Chevrolet dealership in Dexter, MI dealership today.
Our technicians are entirely familiar with the way EVs work so they can easily walk you through the charging process or get you started with installing a Level 2 charger at home. To learn more about our EV selection, visit us today!