Tips to Care for Your Chevy EV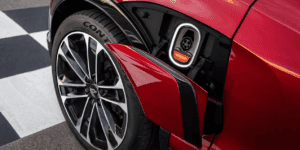 With interest in Chevy EVs growing seemingly by the day, many area drivers are contacting our Chevrolet dealership to inquire about EV maintenance. While it may seem counterintuitive, caring for an EV is less taxing than doing the same for a hybrid or gas-powered vehicle.
It's also less expensive, with most drivers paying just one-third of what it takes to maintain a gas-only car to care for their EVs over the course of their lifetimes. While you won't have to bring your Chevy EV in for an oil change, your automobile will still need some basic maintenance.
Brakes
EVs have regenerative brakes which rely on their electric motors to slow them down. While their regenerative brakes do most of the heavy lifting to slow them down, EVs also have conventional friction brakes.
You'll need to schedule an appointment to bring your EV to our Chevy service center to have your car's brakes inspected and serviced from time to time. Your friction brakes will eventually need new brake pads and brake fluid, for instance.
Windshield Wipers
In addition to having your brakes serviced and inspected at least once per year, you'll need to replace your windshield wipers every six to 12 months. Most motorists can do this on their own.
To replace your wipers, pick up a new pair in our Chevrolet parts department near Saline, MI. Don't be afraid to ask for help if you need an assist installing your new wipers!
Tire Rotations
Regardless of whether they're powered by electricity, fuel, or a combination of both, the tires on all vehicles need to be rotated. In general, it's wise to schedule a tire rotation every 5,000 – 10,000 miles, although cars with directional rubber tires or tires that are different sizes in the front and back may need this service more often.
Cooling System
Electric vehicles employ coolant or refrigerant to keep key components at the appropriate temperature, such as their chargers, inverters, and battery packs. To maintain your EV's cooling system, you'll need to schedule coolant flushes or refrigerant recharges. Luckily, you won't have to schedule either service very often.
To learn more about caring for a Chevy EV, contact or visit LaFontaine Chevrolet Dexter.